Perbandingan Efektifitas Latihan Rom Aktif Dan Akupresur Terhadap Kekuatan Otot Ekstremitas Atas Pada Pasien Stroke Non Hemoragik Di Ruang Rawat Inap Rsud Dr. Haryoto Lumajang
Widya Addiarto

Zainal Abidin

Yeni Puspitasari

Mariani
Keywords:
Active ROM Exercises, Acupressure, Upper Extremity Muscle Strength, Non Hemorrhagic Stroke
Abstract
Stroke is a clinical syndrome that begins suddenly, progressively, in the form of focal or global neurological deficits that lasts 24 hours or more and can cause death. This is caused by nontraumatic cerebral blood flow disorders. The purpose of this study was to compare the effectiveness of active ROM and acupressure exercises on upper limb muscle strength in non-hemorrhagic stroke patients in the inpatient room of RSUD Dr. Haryoto Lumajang.
The research method used was a pre-experimental design with the type of pre-test and post-test one group design. With a sample of 36 respondents with the Accidental Sampling technique and the test used was the Wilcoxon test.
From the results before being given the ROM treatment, 11 respondents (61.1%) had poor muscle tone and before being given the acupressure treatment, 15 respondents (83.3%) had poor muscle tone. From the results after being given ROM treatment, 13 respondents (72.2%) had moderately good muscle tone and after being given the acupressure treatment, 14 respondents (77.8%) had poor muscle tone. The results of the Mann-Whitney analysis test obtained α = 0.003, which means that there is a comparison of the effectiveness of active ROM exercises and acupressure on upper limb muscle strength in non-hemorrhagic stroke patients.
It is expected that patients with stroke will always try to practice ROM independently which has been taught by health workers, for the patient's family to participate and motivate patients to do ROM exercises to accelerate the healing of stroke patients.
Keywords: Active ROM Exercises, Acupressure, Upper Extremity Muscle Strength, Non Hemorrhagic Stroke
Downloads
Download data is not yet available.
References
A, Fengge, Terapi Akupresur Manfaat dan Teknik Pengobatan, Yogyakarta, (2022).
A.Yulianto, (2018). Mengapa Stroke Menyerang Usia Muda. Jogjakarta: Javalitera
Abdurachman, D. (2018). Indahnya Seirama Kinesiogi Dalam Anatomi. In Perpustakaan National Katalog (Issue kinesiologi anatomi). Malang : Inteligensia Media.
Adams, H., Bendixen, B., Kapelle, L., Biller, J., Love, B., Gordon, D., Marsh, E., (2021). Classification of subtype of acute ischemic stroke. Definitions for use in a multicenter clinical trial. TOAST. Trial of Org 10172 in Acute Stroke Treatment. Stroke 24, 35–41.
Alchuriyah, S. & Wahjuni, C. U., (2018). FAKTOR RISIKO KEJADIAN STROKE USIA MUDA PADA PASIEN RUMAH SAKIT BRAWIJAYA SURABAYA. Jurnal Berkala Epidemiologi, Volume 4, p. 67.
Aloysius Rangga Aditya Nalendra, Y. R. (2021). Statitiska Seri Dasar Dengan SPPS. Media Sains Indonesia
Anggriani, A. et al. (2018) 'Pengaruh (Range of Motion) Terhadap Kekuatan Otot Ekstremitas Pada Pasien Stroke Non Hemoragik', 3(2), p. 64. doi: 10.34008/jurhesti.v3i2.46
Anita, F., Pongantung, H., Ada, P. V., & Hingkam, V. (2018). Pengaruh Latihan Range Of Motion terhadap Rentang Gerak Sendi Ekstremitas Atas Pasa Pasien Pasca Stroke di Makassar. JOIN (Journal of Islamic Nursing), 3(1), 97–105. http://journal.uin-alauddin.ac.id/index.php/join/article/view/5703
Aziz Alimul Hidayat Musrifatul Uliyah (2018) Pengantar Kebutuhan Dasar Manusia. 2nd edn. Edited by Tri Utami. Jakarta Selatan: Salemba Medika.
Black, J.M. and Hwaks, J.H., (2019). Keperawatan Medikal Bedah Manajemen Klinis untuk Hasil yang Diharapkan. Singapore: Elseiver.
Elly Nurachmah , Sutanto Priyo Hastono. (2018). Perbandingan Peningkatan Kekuatan Otot Pasien Hemiparese Melalui Latihan Range Of Motion Unilateral Dan Bilateral. Jurnal Keperawatan Indonesia, Volume 16 No.1, Maret (2018), ha l 40-46 pISSN 1410-4490, eISSN 2354-9203
Engelhardt, M. (2018). Strength and muscle mass loss with aging process. Age and strength loss. Muscles, Ligaments and Tendons Journal. https://doi.org/10.11138/mltj/2013.3.4.346
Faridah, U., Sukarmin, & Sri, K. (2018). Pengaruh Rom Exercise Bola Karet Terhadap Kekuatan Otot Genggam Pasien Stroke Di Rsud Raa Soewondo Pati. Indonesia Jurnal Perawat, 3(1), 36–43
Fitriani, A. (2019). STUDI LITERATUR DAMPAK OBSTRUCTIVE SLEEP APNEA PADA PASIEN STROKE. Journal of Chemical Information and Modeling, 53(9), 1689–1699.
H. Anang Setiana, SKM., MKM dan Rina Nuraeni, S.Kep, Ners. MK. Riset Keperawatan. Rahmawati A, editor. cirebon: LovRinz Publishing; (2018). 108 p.
Harahap, S., & Siringoringo, E. (2018). Aktivitas Pasien Stroke Non Hemoragik. Poltekkes Medan, 11, 69–73.
Haryono, R., & Utami, M. P. S. (2019). Keperawatan Medikal Bedah. Yogyakarta: PUSTAKA BARU PRESS
Haswita, & Sulistyowati, R. (2019). Kebutuhan Dasar Manusia (A. Maftuhin, ed.). Jakarta: Trans Info Media.
Imran et al. (2020). Efektifitas New Bobath Concept Terhadap Peningkatan Fungsional Pasien Stroke Iskemik dengan Outcome Stroke Diukur Menggunakan Fungsional Independent Measurement ( Fim ) dan Glasgow Outcome Scale ( GOS ) Di RSUDZA 2018. Journal of Medical Science, 1(1), 14–20.
Kang, H. S., Sok, S. R., Kang, J. S. (2019). Effects of Meridian Acupressure for stroke patient in Korea.journal of clinical, 18, 2145-251
Kanggeraldo, J., Sari, R. P., & Zu, M. I. (2018). Sistem Pakar Untuk Mendiagnosis Penyakit Stroke Hemoragik dan Iskemik Menggunakan Metode Dempster Shafer. Jurnal RESTI (Rekayasa Sistem Dan Teknologi Informasi), 2(2), 498– 505. https://doi.org/10.29207/resti.v2i2.268
Kejadian, D., Berulang, S., Kasus, S., Rsud, D. I., & Susanto, S. (2019). Hubungan Antara Rehabilitasi Dan Dukungan Keluarga Dengan Kejadian Stroke Berulang (Studi Kasus Di Rsud Dr. Adhyatma, Tugurejo Semarang). Jurnal Kesehatan Masyarakat (e-Journal), 7(4), 728–73
Kristiani, R. B. (2019). Pengaruh Range of Motion Exercise terhadap Kekuatan Otot Pasien Stroke di Wilayah Puskesmas Sidotopo Surabaya. In Jurnal Ners LENTERA (Vol. 5, Issue 2).
Michael W et al. (2019). Effect of Cryotherapy versus Transcutaneous Electrical Nerve Stimulation on Patients with Hypertension. Vol 87, No. 8. Medical journal cairo university . 5041-5046
Mutiarasari, D. (2019). Ischemic Stroke: Symptoms, Risk Factors, and Prevention. Medika Tadulako, Jurnal Ilmiah Kedokteran, 1(2), 36–44.
Nursalam. (2018). Metodologi Penelitian Ilmu Keperawatan: Pendekatan Praktis. (P. P. Lestari, Ed.) (4th ed.). Jakarta: Salemba Medika.
Pradana, Hanindya Putra & Faradisi, Firman. (2021). Penerapan Latihan ROM (RANGE OF MOTION) Terhadap Rentang Gerak Ekstremitas Pada Pasien Stroke. Prosiding Seminar Nasional Kesehatan Lembaga Penelitian dan Pengabdian Masyarakat. Program Studi DIII Keperawatan, Universitas Muhammadiyah Pekajangan Pekalongan. https://jurnal.umpp.ac.id/index.php/prosiding/article/view/748
Rahmadani, Elsi, and Handi Rustandi. (2019). "Peningkatan Kekuatan Otot Pasien Stroke Non Hemoragik Dengan Hemiparese Melalui Latihan Range of Motion (ROM) Pasif." Journal of Telenursing (JOTING) 1(2):354–63.
Ridwan, M., Setiawan, A. dkk. (2019). Hubungan Tingkat Adiksi Merokok Dengan Derajat Keparahan Aterosklerosis Pada Pasien Penyakit Jantung Koroner. Jurnal Kedokteran Diponegoro.
Riskesdas., (2018), Riset Kesehatan Dasar. Departemen Kesehatan RI.
Riyanto, Slamet dan Aglis Andhita H. (2020). Metode Riset Penelitian Kuantitatif. Yogyakarta: CV Budi Utama
Rohayati, E. (2019). Keperawatan Dasar I (A. Rahmawati, ed.). Jawa Barat: LovRinz Publishing
Samita, L. (2018). Program studi d iii keperawatan sekolah tinggi ilmu kesehatan perintis padang tahun (2018).
Saputra & Sudirman. Akupuntur untuk Nyeri dengan Pendekatan Neurosain. Jakarta: Sagung Seto; (2019).
Shin, K., Lee, M., Jung, hee jung, Kim, A., … Choi, S. (2019). Acupuncture lower blood pressure in mild hypertension patients : A randomized, controlled, assessor-blinded pilot trial. ELSEVIER, 23, 658–665. https://doi.org/10.1017/CBO9781107415324.004
Sugiyono. (2019). Metode Penelitian Kombinasi (Mixed Methods). Bandung: CV Alfabeta
Sukanta, P. (2018). Pijat Akupresur Untuk Kesehatan (2nd ed.). Jakarta: Penebar Plus
Ummaroh, E. N. (2019). ASUHAN KEPERAWATAN PASIEN CVA (Cerebro Vaskuler Accident) DENGAN GANGGUAN KOMUNIKASI VERBAL Di Ruang Aster RSUD Dr. Harjono. http://eprints.umpo.ac.id/id/eprint/5088
Windi M, S. S., & Gilbert T. (2018). Diagnosis Dan Tatalaksana Malformasi Arteri Vena (Avm ) Serebral Diagnosis. 1(373), 1–5.
Yakub dan Herman. (2019). Pengaruh Kombinasi Proprioceptive Neuromuscular Facilitation (PNF) dan Mirror Therapy Terhadap Peningkatan Activity Daily Living (ADL) Ekstremitas Atas Pada Pasien Stroke Hemiparese. Convention Center Di Kota Tegal, 4(80), 4.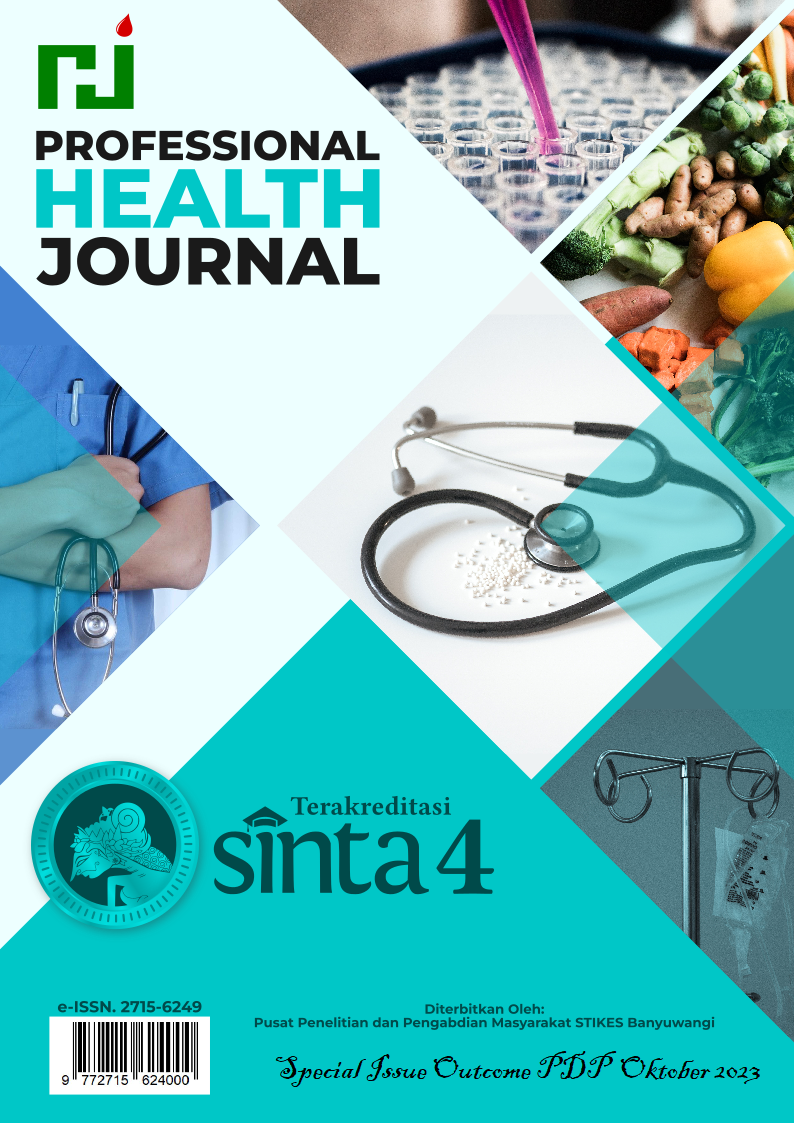 How to Cite
Widya Addiarto, Zainal Abidin, Yeni Puspitasari, & Mariani. (2023). Perbandingan Efektifitas Latihan Rom Aktif Dan Akupresur Terhadap Kekuatan Otot Ekstremitas Atas Pada Pasien Stroke Non Hemoragik Di Ruang Rawat Inap Rsud Dr. Haryoto Lumajang. PROFESSIONAL HEALTH JOURNAL, 5(1sp), 136-149. https://doi.org/10.54832/phj.v5i1sp.455
Copyright (c) 2023 Widya Addiarto, Zainal Abidin, Yeni Puspitasari , Mariani
This work is licensed under a Creative Commons Attribution-ShareAlike 4.0 International License.